Project's objective
Remote geological prospecting of the area of interest of the Customer based on processing and interpretation of Earth remote sensing (ERS) materials.
The main tasks of INNOTER LLC were:
Improving the quality of forecasting the presence of gold mineralization in the study area through the use of satellite images;
Testing of remote sensing methods for prospecting for gold-bearing mineralization for the area of interest of the Customer;
Revealing the possibilities of using ultra-high resolution satellite images, as well as SWIR channels of the WorldView-3 spacecraft, to identify gold ore mineralization.
Completed work
Selection of archival materials of space imagery of medium ASTER and high resolution WorldView-3;
Drawing up cartograms of the territory exploration by various types of surveys and research.
Analysis and interpretation of the collected materials in order to localize the area of prospecting for gold-bearing mineralization;
Processing of satellite images (radiometric and geometric transformations; atmospheric correction; spectral analysis (including Machine Leaming).
Formation of a GIS project with the structure:

Customer facilities (boreholes, map of actual material, mining and processing complex, etc.);
Archival georeferenced cartographic materials of geological, geophysical, topographic and other contents;
A set of space images;
Contours of prospective prospecting areas with recommended drill profiles.

Prediction of gold ore mineralization based on processing and interpretation of remote sensing materials:

Decoding of remote sensing data by means of visual and automated decryption using gravimetric magnetometric data.
Identification of potential ore-promising areas for prospecting for gold-bearing mineralization based on the integration of remote sensing data and geological information, ranking the territory according to the preference of prospecting.
Drawing up geological and structural diagrams, local layouts of prospective prospecting objects, allowing to assess the ore potential of the area and the location of potential mineralization.
Allocation of priority territories (ranked by priority) for the setting of onshore exploration works.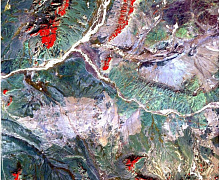 Results
Research conducted by the Innoter team using WorldView-3 high-resolution imagery indicates a high probability of discovering gold deposits in the studied region.

On the basis of the obtained data, a cosmostructural scheme was compiled, which reflects the position of linear and main focal structures, as well as the largest areas of anomalous changes in the tone and color of areal images, which made it possible to outline a profile for staging ground geological exploration and reduce the area (from the original) by more than 60 percent.